Political and ethical implications of globalization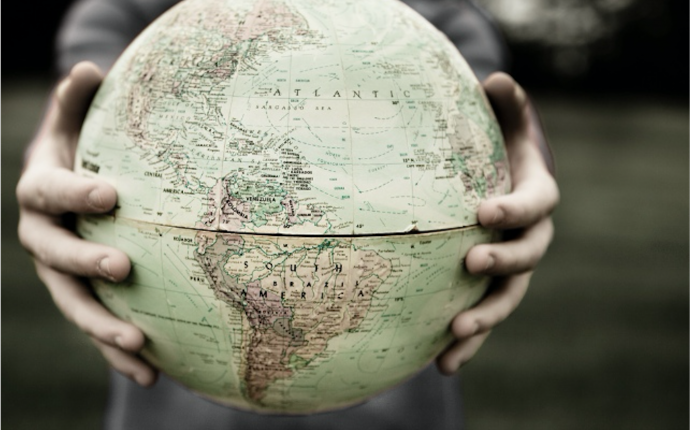 Discussing the political and ethical implications of two components of globalization: democratic deliberation and civil liberty as well as Media imperialism.
According to Anthony McGrew, globalization comprises a "multiplicity of linkages and interconnections that transcend the nation states (and by implication the societies) which make up the modern world system. It defines a process through which events, decisions and activities in one part of the world can come to have significant consequence for individuals and communities in quite distant parts of the globe" (McGrew, 1990). Following this idea of a phenomenon that is constituted by features with global level impacts, the objective of this paper is to discuss the implications of some aspects of globalization – democratic deliberation and civil society, and media imperialism – in terms of ethics and politics.
Democratic deliberation & civil liberty
Democratic deliberation, to begin with, is defined by Dryzek as a dialogue that "induces reflection upon preferences in a non-coercive fashion" (Dryzek, 2000); following Habermas' idea of a type of collective communicative power which would neutralizes coercive forms of power such as domination and strategic manipulation. If there are numerous models of deliberative democracy, all of them still emphasize the significance of voice, through a communicative framework (Wirklund, 2005), in a process taking into account each actor's interests and views in the solving of common problems (Habermas 1990). Consequently, democratic deliberation is tied to the concept of civil liberty – the "right of people to basic freedoms and to live without the government becoming involved in private matters" (Cambridge Academic Content Dictionary), codified notably in states' Constitutions – in that both are instruments for individuals to protect themselves from domination. Indeed, specifically in the context of civil society depicted by Oxhorn, the combination of democratic deliberation and civil liberty reconciles an aspect of resisting subordination from the state with the idea of demanding inclusion into the national political structure (Oxhorn, 2007 : 328).
This combination of resistance and inclusion transposed on the global level becomes what we could name an attempt of re-democratizing globalization. Here, re-democratizing global governance bears the objective of bringing more accountability and legitimacy to the political arena of global governance. The politologist Linda Weiss discusses a constraint view of globalization, according to which the level of accountability of leaders and their ability to take legitimate decisions is dramatically reduced. In that view, "global integration acts as a force that constrains states and reshapes institutions (…) dispersing decision-making authority downwards, upwards and sideways to other power actors. In the new global drama of multi layered governance, states are metamorphosing not into minor figures, but into supporting players in a cast led by new ever protagonists" (Weiss, 2005 : 345). Martell follows the same line of thoughts when he states: "power has been monopolized by state-corporate elites beyond mechanisms of popular consent, ruling out the possibility of choices other than those such elites favor" (Martell, 2010 : 241). Thus, the use of democratic deliberation combined with the exercise of civil liberties in the global context can represent an anti-elitist way for civil societies of calling for more democracy through.
The Zapatistas, a Mexican civil society anti-elitist and anti-capitalist movement, provide an illustration of this will of reintroducing the people in today's democracy: "the Zapatistas implore us to look at the lies of power in this new world order and see that the radical transformation can be dreamed about only with the participation of an increasingly excluded majority" (Jeffries, 2001 : 133). More generally, Castells qualifies this type of movement of "an expression of the crisis of legitimacy, transformed into oppositional political actions" (Castells, 2008 : 86). This leads us to establish that democratic deliberation and civil liberties, in an alter-globalist way, can be considered as having the political and ethical implication of bringing more democracy and accountability to political decisions, as well as taking into account the people's opinion. However, it can be argued that a certain number of disadvantages pose problem in the idea of democratic deliberation delivering the ethical benefit of representing the whole spectrum of a people's interests – making it to some extant idealistic. Among others, the inequality of rhetorical abilities (sometimes going together with charismatic leaders), the risk of non-optimal group size for discussion or the lack of resources and information can be pointed out as factors undermining the ethical goal of the whole process.
Finally, democratic deliberation, but also civil liberties – such as the free speech, or the right of assembly among others – allow a civil society to put on the global agenda a range of questions and issues including a social-justice, as well as anti-globalization and global-justice. As Martell explains, "global social movements are able to put on the agenda in a fresh, imaginative and critical way, questions concerning problems reproduced by other sectors of society, which these sectors turn away from" (Martell, 2010, : 239). In this regard, democratic deliberation and civil liberties allow civil society movements to raise awareness about a diverse range of issues, resulting in positive ethical outputs. As described by Castells, through the use of media, NGOs and other civil society organizations embody a role of promotion of civil liberties and human rights (among others), by affirming universally recognized values: "the affirmation of human rights on a comprehensive global scale gives birth to tens of thousands of NGOs that cover the entire span of the human experience. (…) The key tactics of NGOs to achieve results and build support for their causes is media politics (…) to reach the public and mobilize" (Castells, 2008 : 75-6). Thereby, the media network can represent a "democratic opposition" to globalization, and be a tool for democratic deliberation and civil liberty to have political and ethical influence.
Media imperialism
However, if media involve a dimension of defending of diverse causes, it is essential to note that not all of these are equal. Clifford describes this phenomenon as a global meritocracy of suffering: "civil society is not an open forum marked by altruism, but a harsh, Darwinian marketplace" (Clifford, 2002 : 2). Could we then argue that this is due to media imperialism? According to Hamelink, media imperialism represents the fact that "international media – as producers and disseminators of foreign cultural contents – are seen as the key culprits in a process in which foreign cultural contents are imposed upon local cultural traditions" (Hamelink 2015 : 194), in other words, a consumerism diffusion (Cohen and Kennedy, 2013 : 298) "dominated by a few [with] undoubtedly far from negligible consequences" (Idem : 299). Thereby, considering the global meritocracy of suffering through the notion of media imperialism shows how local issues are acknowledged differently, according to the ability of groups to reframe them in a way that would lead to Occidental/mainstream media support; which makes the ethical side of media questionable in terms of ethics.
Following the Marxist theory of centre-periphery (Wallerstein, 1974), there are numerous political and ethical implications of Occidental countries having an influence on the rest of the world through media, producing a certain impact on local cultures and promoting consumerism. In this regard, it is worth mentioning the work of the anthropologist Arjun Apparudai on mediascapes : "Mediascapes refer both to the distribution of the electronic capabilities to produce and disseminate information (…) and to the images of the world created by these media" (Appadurai, 1990, p.299). For this author, "there is always a fear of cultural absorption by polities of larger scale" (Appadurai, 1990 : 299), and media can be considered as one of the tools for invasion: "states throughout the world are under siege, especially where (…) there are radical disjunctures between ideoscapes and mediascapes (as in many countries in the Middle East and Asia), where the lifestyles represented on (…) TV and cinema completely overwhelm and undermine the rhetoric of national politics" (Idem : 305). Therefore, media imperialism can be considered as a threat to countries' national politics – that would risk being under Occidental and capitalist countries influence – but also of loss of cultural identity, which constitutes a more ethical consequence of media imperialism. As states Hamelink, "the protection of cultural identity became an especially hot issue during the 1970's debates on cultural imperialism. In 1973, the Non-Aligned summit at Algiers stated that 'it is an established fact that the activity of imperialism is not limited to political and economic domains, but that it encompasses social and cultural areas as well, imposing thereby a foreign ideological domination on the peoples of the developing world'" (Hamelink, 2015 : 295). Accordingly, in this view, media would be part of the imperialist pressure to which Third World countries would be subjected, with the risk of seeing their cultural identity disappearing in favor of a type of global, homogeneous culture imported from the West, a part of what George Ritzer defines as globalization, i.e. "the imperialistic ambitions of nations, corporations, organizations, and the like and their desire, indeed need, to impose themselves on various geographic areas" (Ritzer, 2007b : 15).
However, according to Thomlinson speaking of media imperialism is granting a disproportionate power to media. For him, "it [is] probably better to think of cultural imperialism as a much broader process of cultural change which involves the media among other factors" (Thomlinson, 1997 : 63-4). Furthermore, Ritzer balances even more the idea of media imperialism (or now only cultural imperialism), by stating that the process of increasing homogenization that the local is currently undergoing is nothing new, and will not prevent it from continuing to survive, if not flourish (Ritzer, 2007a : 158-9), through hybridization, which he defines as "a very positive, even romantic, view of globalization as a profoundly creative process out of which emerges new cultural realities and continuing, if not increasing, heterogeneity in many different locales" (Idem : 181). This more positive conception of globalization enriching local cultures – even through sometimes particularly threatening tools such as media – questions the whole, already contested idea that media constitute a threat in themselves, a form of foreign domination (particularly from the US) by their structure, ownership and content (Hamelink, 2015 : 194). Consequently, questioning the very notion of media imperialism suggests that global media itself would not be a political or ethical threat for Third World countries, but could instead enrich both domains – or would at least, from a less extreme standpoint, not be a danger for political and cultural diversity, taken apart from the whole process of cultural imperialism from which it only constitutes a means.
Therefore, to conclude, if democratic deliberation and civil liberties allow actors of today's globalized world to fight for their rights – particularly to democracy – it is relevant to note that global media is overall a tool, which can be used to promote cultural imperialism, but conjointly provides peoples from all over the world with great political change opportunities, as long as they use them astutely. This example given by Castells about Burma uprising supports this idea: "Burmes people connected among themselves and to the world relentlessly (…). The mainstream media rebroadcast and repackages these citizen journalists' reports, made from the front line, around the world. By the time the dictatorship closed down all internet providers, cut off mobile phone operators, and confiscated video-recording devices found on the streets, the brutality of the Myanmar regime had been globally exposed [which] embarrassed their Chinese sponsors and induced the United Stated and the European Union to increase diplomatic pressure on the junta" (Castells, 2008). However, could we consider the progress of democracy as a proof of successful imperialist maneuver from Occidental countries over the rest of the world?
Laetitia Honsberger  (UNIL – Université de Lausanne. Travail effectué lors d'un échange universitaire à la Copenhagen Business School)
SOURCES
−  Appadurai A, "Disjunctures and Differences", in Theory, Culture and Society, Vol.7, 1990
−  Cambridge Academic Content Dictionnary, Cambridge University Press, 2008
−  Castells M, New Public Sphere, Annals 616, 2008
−  Clifford B, "Merchants of Morality", in Foreign Policy, issue 129, 2002
−  Cohen R and Kennedy P, "Digital age", in Global Sociology, Palgrave, 2013
−  Føllesdal A, "Subsidiarity and Democratic Deliberation", in Oddvar Eriksen and Fossum J.E Democracy in the European Union: Integration Through Deliberation?, pp.85-110, Routledge, 2000
−  Dryzek J, Discursive Democracy: politics, policy and political science, Cambridge University Press, 1990
−  Habermas J, Moral Consciousness and Communicative Action, Polity Press, Cambridge, 1990
−  Habermas J, Between Facts and Norms: Contributions to a Discourse Theory of Law and Democracy, Polity Press, Cambridge, 1996a
−  Habermas J, "Three normative models of democracy", in S Benhabib Democracy and difference, Contesting the Boundaries of the Political, Princeton University Press, Princeton NJ, pp.21-30, 1996b
−  Habermas J, "Constitutional democracy: a paradoxical union of contradictory principles?" in Political Theory, 2, pp.766-781, 2001
−  Hamelink J, Global Communication, Sage, 2015
−  Jeffries F, "Zapatismo", in Burbach R, Globalization and Postmodern Politics, Pluto Press, 2001
−  Martell L, "Anti-globalization", in The Sociology of Globalization, Polity, 2010
−  McGrew A, "A Global Society" in Stuart Hall, David Held and Anthony McGrew, Modernity and Its Futures, Cambridge: Polity Press, 1990
−  Oxhorn P, "Society without a state? Transnational society and the challenge of democracy in a globalizing world", in World Futures, 63, pp.234-339, 2007
−  Ritzer G, Theorizing Glocalization and Grobalization. The Globalization of Nothing 2, Sage, 2007a
−  Ritzer G, The Blackwell Companion to Globalization, Blackwell Publishing, 2007b
−  Thomlinson J, Media-Cultural Imperialism, Pinter, 1997
−  Wallerstein I, The Modern World-System I: Capitalist Agriculture and the Origins of the European
World-Economy in the Sixteenth Century, 1974, New York Academic Press                                                                                                                            − Weiss L, "The State-augmenting Effects of Globalisation", in New Political Economy, Vol.10, No.3, 2005
−  Wirklund H, "In search of arenas for democratic deliberation: a Habermasian review of environmental assessment", in Impact Assessment and Project Appraisal, 23:4, pp.281-292, 2005